.
LATEST NEWS
.
1) WORK PARTY - FISH RELEASE & MOVE
- SATURDAY 22nd April, 8:15am- 8:30am Butler's Gate
2) MONTHLY MEETING
- WEDNESDAY 10th MAY
SOOKE COMMUNITY CENTRE 7:00pm
3) OPEN HOUSE at HATCHERY - MAY 7th
**********************************************************************
Volunteers
Mike Berry, David Hadley, Steve Crevatin & Darren Brown

Harvest a Chinook female as part of our 2016 brood stock take.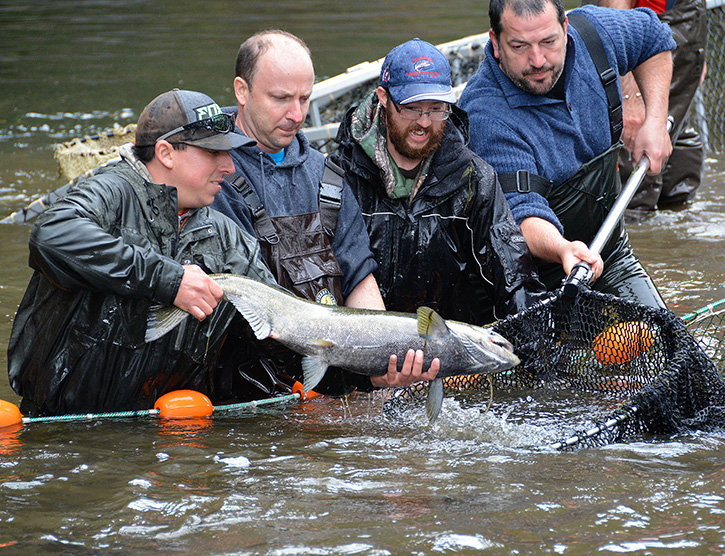 2016 DERBY WINNERS & THANK YOU
TO SPONSORS
.
CLICK ICON BELOW
FOR DOWNLOADABLE PDF OF DERBY WINNERS
SPRING 2014 MESSAGE FROM SOCIETY PRESIDENT - Robert Gamache
.
CLICK HERE for PHOTOS OF 2014 BROOD STOCK TAKE
.
"THE SOOKE SALMON ENHANCEMENT SOCIETY
IS A 100% VOLUNTEER ORGANISATION "
The Society's fundamental function, through the efforts of it's many volunteers, some funding from DFO, occasional grants from the Pacific Salmon Foundation and support from the general public, is to maintain and operate the Jack Brooks Hatchery (founded by the late Mr. Jack Brooks).